it's no secret that i'm an olympic nerd. can not get enough. matter of fact i was going to go to london this olympics and had it all mapped out how to get there, then i feel in love, got married, got a dog...ya know...life.
it's also no secret that i wore my phelps shirt the day the olympics started because well, michael needs me.
four years ago, after the olympics ended i ordered two tshirts, the "official" olympic video to recap the games and let's not forget the speedo goggles. the very ones michael phelps wears, because, well...of course i was gonna start swimming. and i did...a few laps, but who ever even knew that stuff is hard. like real hard, so needless to say, the shirts have gotten a lot more use than the goggles. oh, i also ordered michael phelps' greatest moments on dvd. i'm planning on starting a museum, i'll let you know when it opens.
so what's a girl to do when the opening games are on and she has to work? well, duh! bring the party to work! holla.
(olympic nerd, told ya. i just said holla and meant it.)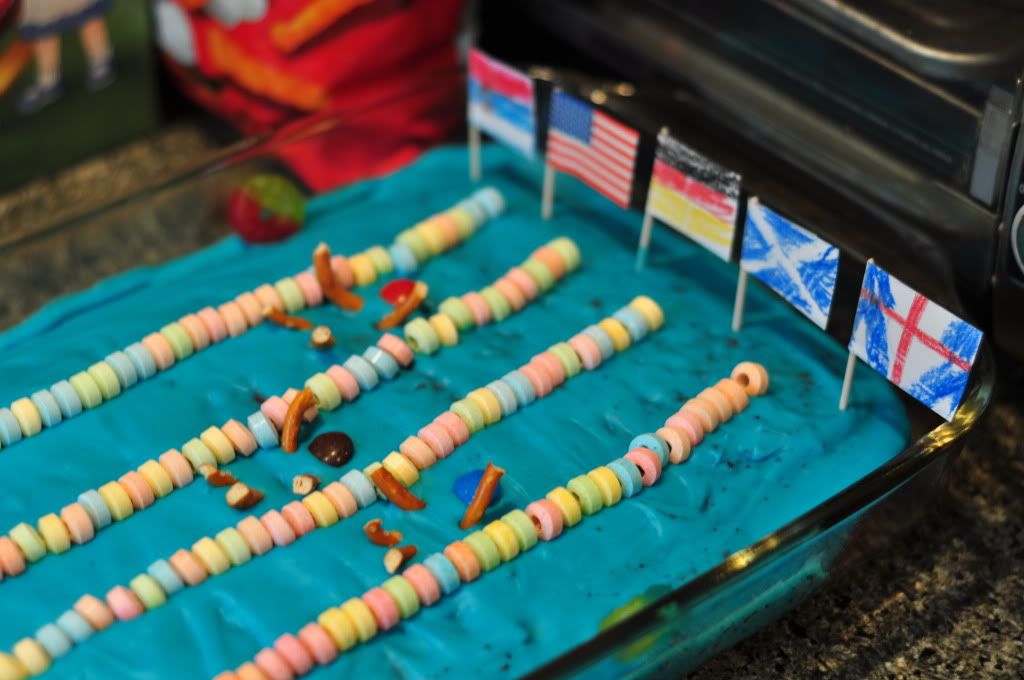 cake:
red velvet cake
white icing with blue food coloring for the water
candy necklaces for the lanes
pretzels and m & m's for swimmers
flags: made by the little fellas
rice crispie squares:
m & m's for olympic rings.
flags.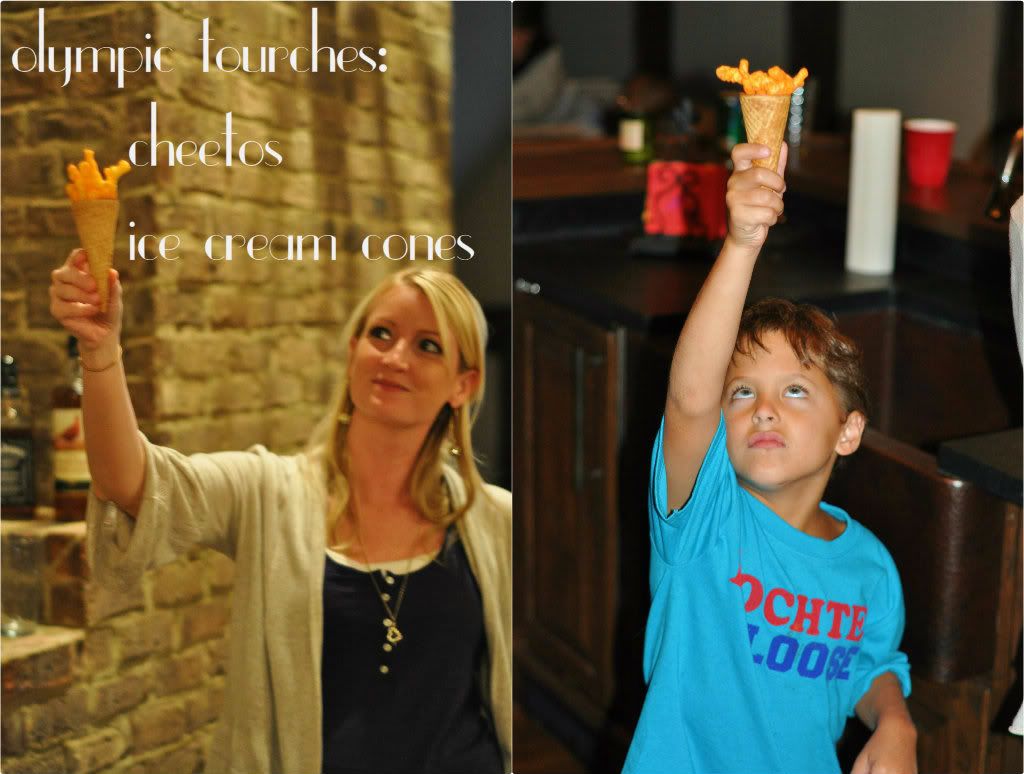 and then fun continues with TORCHES. i mean, ya gotta have torches!
cheetos and ice cream cones. delicious, right?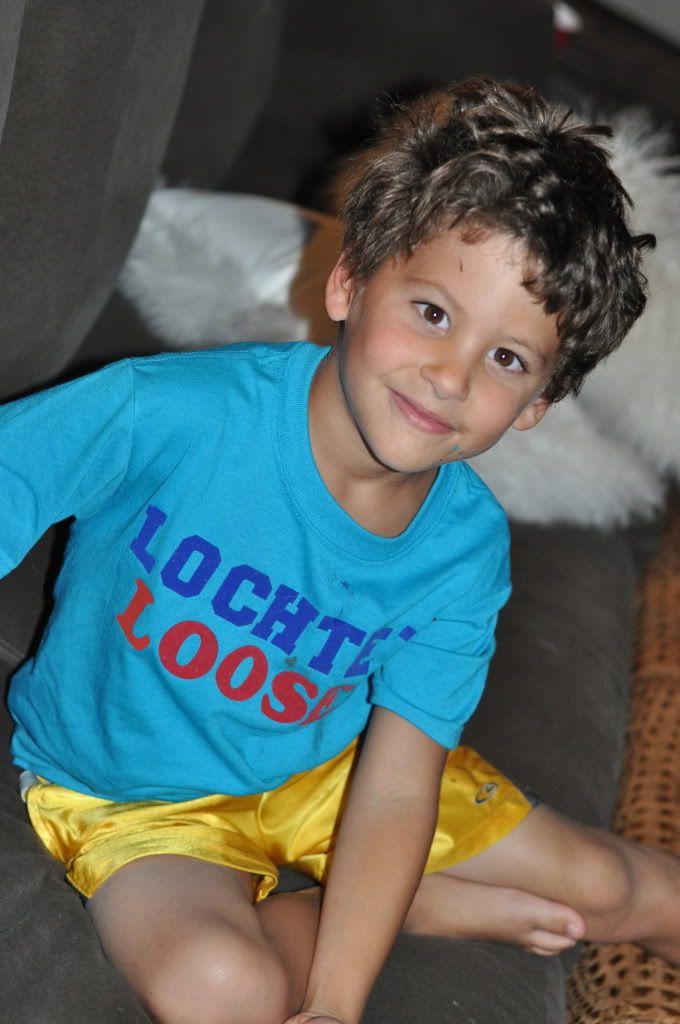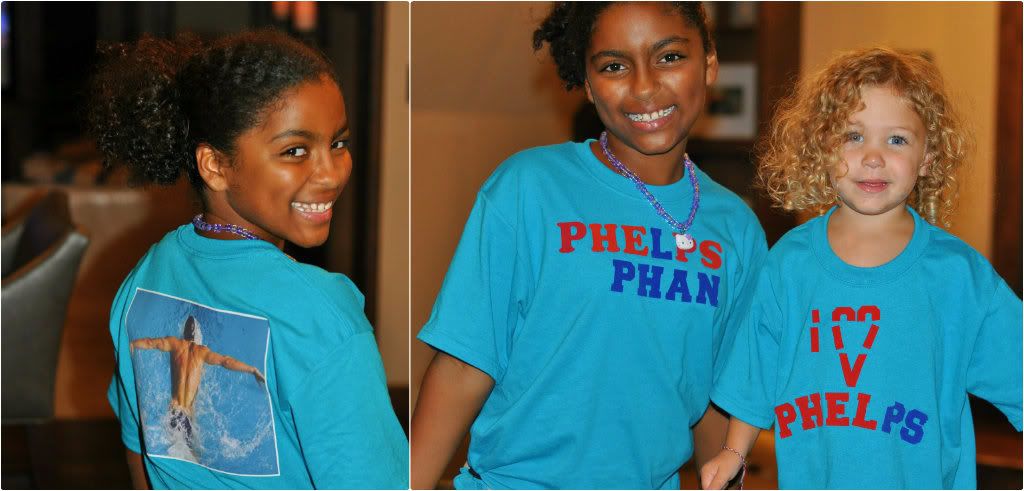 tshirts:
iron on letters with iron on pictures printed from the computer on the back.
directions coming soon.
all of this equals one happy, nerdy, geeked out, olympic fan nannys dreams coming true.
after all, who needs a gold metal when you have a swimming pool cake?
go team USA!!!