i am a marketing persons DREAM. my best friends say
"if its marked limited edition, jessica's gonna want it!"
and that is so true. package it well and i am sold. i have been trying to think of something to come up with to share things i use and love once a week..this week we are going to focus on hair.
i recently, after having dark hair my entire life, went lighter, like really light. i go to a bumble and bumble salon and usually tend to use aveda product. but since i am spending more money than ever to look just like emily maynard's twin, i needed to find something a little cheaper as far as product but comparable to the brands i had used it the past.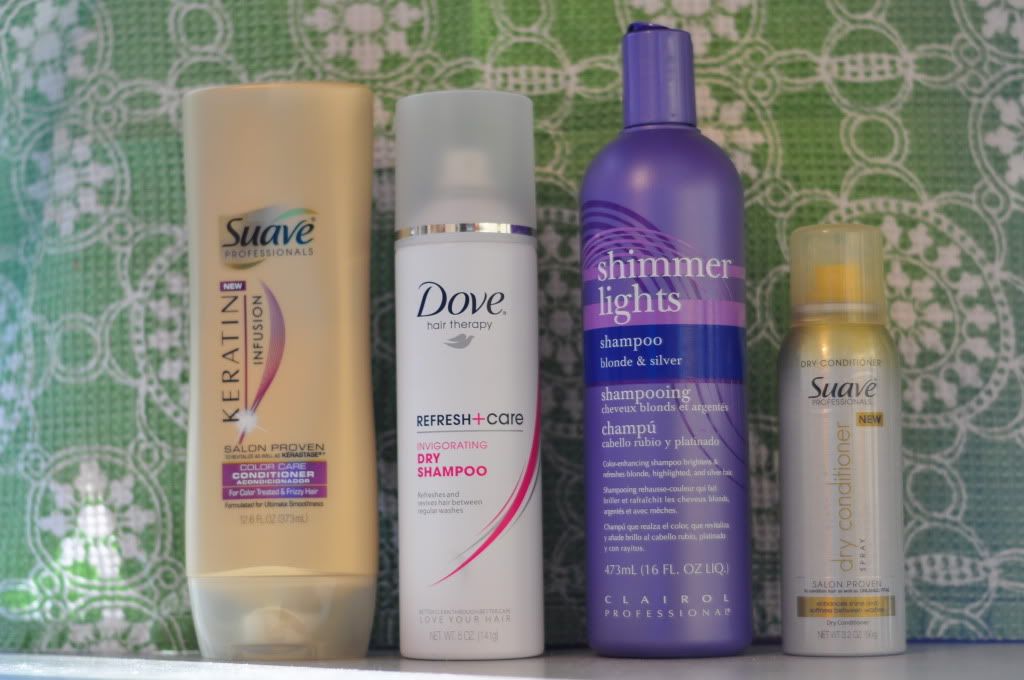 my stylist told me i needed to get some shampoo for blonde hair---i was at the grocery last week and saw this shimmer lights and immediately was taken back to the days when i still lived at home and mom used this
god awful purple shampoo for grey hair...
i am sure i used some brand of teen spirit that was way fruitier and
of course
much cooler...yeah well, that was then. this is now.
guess what i love for this blonde huuur?
shimmer lights baby.
if you have blonde or grey hair and don't wanna break the bank. try it. it really made my color last. i am a fan.
suave infusion keratin.
i really wanted and needed a keratin treatment since my hair was done well, but still over proccessed. but again, cost. i saw this and thought i would try it. it is amazing how GREAT it makes my hair feel.
shimmer liiiiights AND suave keritan...
it's almost like i don't have hair that is totally NOT NATURAL.
because my hair feels so amazing.
then there are those days
...yes, days---(you do it too!)
well, that i don't wash my hair. and then brad says,
"hey lets go grab a bite of dinner."
like in public.
and i looks like a girl
with unwashed hair.
dove dry shampoo.
yeah, i thought this was for roller set grandmas too. well, i am a fan. spray some of this right in the part...and
look at my freshly washed huuuur, brad...could we go to dinner already?
dove dry conditioner.
last but not least. this was bought by mistake, but i LOVE it. probably something i have discovered lately that i love the most. if you just feel like your hair needs a little extra love, well, here you have it. works great.
p.s. i painted my nails this week. errr, yesterday. went all crazy and well, you'll see...
p.s. that first picture is totally crooked. so that is making this entire post look all kati-wompas. huh? do you see it? just hold your head a little to the left and you'll be fine.