when i decided to link up with
gussysews
and julie ann over at
www.julieannart.com
about writing a thanksgiving post - or some things i am thankful for post, i thought and thought and thought -
i needed to make this great
- after all, it's a link party! then i decided to tear up the paper on my original plan and take a ninety degree turn (goooo me!). i am going to give you some things i am thankful for on a daily basis - things that OFTEN get overlooked in our heart of thanks.
so without further addddoooooo
(drum roll please) - i present to you.
the often forgotten items on the
1. laundry detergent
2. windshield wipers
3. toilet paper
4. carbohydrates
5. chocolate
6. television
7. heat
8. scarfs
9. pretty christmas ornaments
10. birds
11. flavored coffee creamer
12. dishwashers
13. stocking stuffers
14. sequins
15. the today show
16. good bed pillows
17. down comforters
18. mascara
19. eyeliner (thank you jesus!)
20. fonts (read jessica is a geek)
21. writing utensils
22. paper
23. twitter
24. trash bags
25. red fingernail polish
26. leggins
27. new clothes
28. large towels
29. lamps
30. socks
Briana@SweetCGrace said...
What a good idea! I would add Lipsmackers chapstick & flip flops! :)
come on, i know you have more to add...
tell me and i will add them... let's see how long we can make this list. i had absolutely NO trouble coming up with thirty!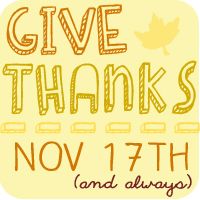 if you are a new follower today, tell me - so i can follow you back!
holla follow back y'all.
too much? too much?
i'm stopping.