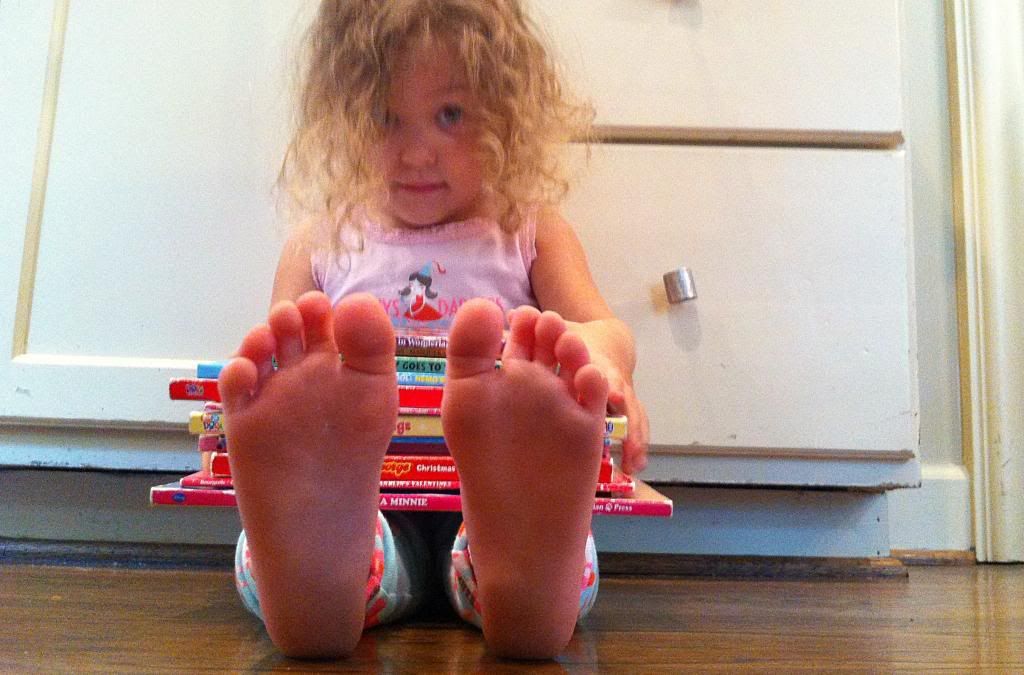 this picture. it's grainy and all wrong but i adore it. we read and read the morning i took this picture, later that day we found out she had strep throat, so we read more. dummy me took her to
mckay books
and let her pick three books to buy AND the dumb part of that is...she picked some princess books with no pictures that were only words. one hundred pages a pop. and she loves them and knows when you skip a paragraph. a whole new meaning to nap/bedtime stories. remind me to hide those books, or better yet take them to
mckay to resale.
which leads me to the reason i wrote this post. what i'm reading.
it's no secret that i love to read. i went through a phase where i wasn't reading at all for a while and i am happy to report that i have remedied that problem with these five beauties.
1.
half broke horses by jeanette wells.
i hands down would tell anyone that asked that the
glass castle by jeanette wells
is my favorite book ever. any time anyone asks, i tell them to read to glass castle. even talking about it makes me want to read it again. it's that good. i haven't started half broke horses yet but i expect it to be just as good. i am excited to start this.
2.
flying high by calvin lehew and stowe daily shockey.
i just finished this book. if you are local nashville or just a tennessean, it is an awesome true story of the life of a true renaissance man who had everything to do with the vision of downtown franklin and making it what it is today. while stowe, his co writer of this book, was interviewing him for the book she was going through stage 3 cancer and holding onto life with a thread. calvin became her friend, taught her how to rethink for the positive. we went to a tribute to calvin at
the factory at franklin
where i bought this book and i can not say enough good things about the book or the interesting and wonderful man calvin lehew. this book is being made into a movie as well. [and he lives next door to tobymac. that's cool too!]
3.
god's not dead: evidence for god in an age of uncertainty by rice broocks.
i haven't started this book yet, either.
my pastor
when i was single, and lived with lori and bessie, wrote this book. i can not wait to start reading it. he is an amazing pastor and i know this book will be just as good. interesting too!
4.
the power of style by bobbie thomas.
i have scanned this book but haven't read it cover to cover. i am a fan of bobbie thomas, i love that she started as a rape and trauma councilor and her life has morphed into
today.
(literally!)
5.
the secrets of happy families by bruce feiler.
i'm a nanny, gotta stay fresh. i am half way through this book and if you have one child or ten, this book offers great tips from different families and how they make their day to day work. highly suggest this book! so far, so good.
what are you reading? what do i need to add to my pile?